Alberta's economy is on the road to recovery and the government is taking in more money, but there's no change to the projected $10.8-billion deficit this year.
Finance Minister Joe Ceci says Alberta is going to make $1.5 billion more than expected in the current budget year, which ends March 31.
Province has taken in an extra $1.5B, mainly due to resource revenue, but expenses in health, education and social services are up. #ableg

— Tom Vernon (@TomVernonGlobal) February 23, 2017
READ MORE: Economists meet with Alberta officials, say worst appears to be over
But he says increased spending on programs and disaster assistance, coupled with a $1 billion expense to begin phasing out coal power means there's no boost for the bottom line.
A $1.1 billion expense has been added for the coal phaseout plan, but it will actually be paid out yearly over the next 14 years. #ableg

— Tom Vernon (@TomVernonGlobal) February 23, 2017

"A full economic recovery will take time after such a long downturn, but we are starting to see encouraging signs for Alberta in the year ahead," Ceci said in a statement Thursday after releasing the third-quarter update for the 2016-17 budget year.
"Some challenges still remain and that's why we are sticking to our plan of putting Albertans to work by creating good jobs and diversifying our economy. We will continue to protect the services that Albertans depend on."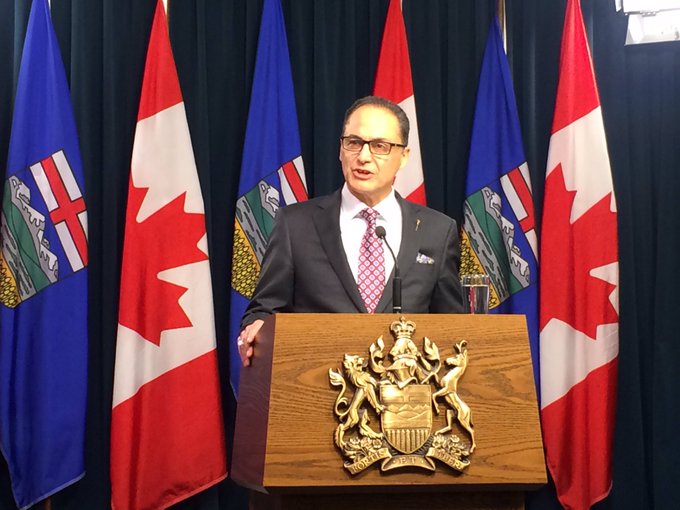 Alberta is on track to take in $42.9 billion due to a rebounding oil sector. But the gains are offset by an extra $2.6 billion in spending.
The province, at the suggestion of the auditor general, is booking the $1.1-billion accounting expense this year for payments to be made to operators over the next 14 years to move the electrical industry off coal-fired power by 2030.
The province is also spending $774 million more than planned to cover higher operating costs, mainly in health, education and social services. There is another $818 million for disaster assistance needed mainly after severe flooding in 2013 and last spring's Fort McMurray wildfire.
To keep the deficit from ballooning to $11.5 billion, the province is throwing in a $700-million cushion it had kept to guard against low oil prices.
Economic indicators show that Alberta is out of a recession caused by a trough in oil and gas prices that gutted thousands of jobs. Higher oil and manufacturing exports are expected to propel growth by 2.4 per cent in 2017.
READ MORE: Oil will help Alberta's economy lead Canada in 2017. But that won't translate into more jobs
Provincial exports hit $8 billion last December, 47 per cent above the low point in April 2016.
Jobs have grown by 18,000 since cratering in July 2016.
Further economic good news arrived Thursday from the Conference Board of Canada.
The think tank reported that Alberta is expected to have the strongest economic growth this year due mainly to a resurgence in the oil sector.
The province reported 199 rigs drilling in January, the highest level in the last two years.
Resource revenue has increased $1.1 million to $2.4 billion.
READ MORE: Could Alberta's oil industry be rebounding?
The oil price benchmark West Texas Intermediate was expected to average US$42 a barrel this year, but has since been revised to hover at US$48 a barrel. It is currently above US$54.
Capital spending is forecast to be $7.3 billion. That is down $1.2 billion from what was planned due to poor weather and delays in some projects. The devastating forest fire in Fort McMurray last year set back timelines on projects in that city, including hospital repairs and three new schools.
Government borrowing, including money to pay operating and capital costs, is expected to reach $32.3 billion against $19.7 billion in the Heritage Savings Trust Fund.
Debt servicing costs this year are pegged at just over $1 billion.